Profile
Download the biography and filmography as a pdf
Biography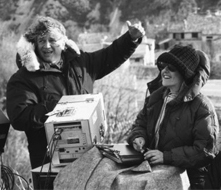 Born 13th November 1946 in a music-hall joke called Clitheroe, in Lancashire.
In 1968 Sharp left Durham University with a degree in Psychology and joined the BBC, where he "served his apprenticeship" until 1979 making documentaries first for the General Features Department, and then for Music and Arts, notably Arena and Omnibus.
"In 1978 the BBC gave me 3 months sabbatical to make a little movie called "The Music Machine", and it was this experience that fired my ambition to turn to Film Drama."
In 1980, after a year trying to persuade people to let him loose with Actors, he got his first break on the comedy TV Series "Minder" and then immediately on to the all-action series "The Professionals" and for the next 12 months he hopped between the two shows, making a total of 6 films.
In 1981 after just twelve months of going freelance, he was given a big movie to direct – 'Who Dares Wins' for MGM/UA (see Filmography below for credits).
"Over the next two years I was offered a shower of heavy-duty action movies," says Sharp, "but when the inspirational Paul Knight at Goldcrest asked me to direct the pilot for the first 'Robin of Sherwood' series, a brilliant script by Kip Carpenter, I jumped at the chance. One by one, they kept pushing the other scripts in front of my nose and they were so good I gladly agreed to do all six of them."
He continued to work mainly for Television until 1988 when he received a phone call out of the blue from Robert Zemeckis asking if he'd be interested in directing the Second Unit on 'Who Framed Roger Rabbit?' Apparently Zemeckis and producer Robert Watts had both been big fans of the Robin of Sherwood series. Ian shot for 5 months on that picture at Elstree Studios and on location.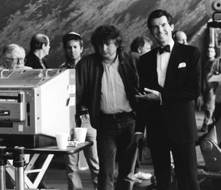 More TV films followed, during which time Sharp became better known for the films he turned down – 'Widows', 'G.B.H.' and 'A Perfect Spy', to name just three. In 1994 he was back on a big movie when Martin Campbell asked him to direct the action scenes for the James Bond film 'Goldeneye' (see the Showreel for his legendary tank chase scene).
It got terrific reviews, and offers piled in from the US to do 2nd unit action for major movies like 'Dante's Peak' and 'Earthquake' and interest from directors such as Jan de Bont. Anxious not to be typecast as a director who only made 'action' pictures, he turned them down. Then, "I was thrilled to bits," says Sharp, "when Sally Head and Sarah Wilson gave me the heaven-sent opportunity to direct Ted Whitehead's wonderful adaptation of the Thomas Hardy novel 'Tess of the D'Urbervilles' for Granada. The experience was just like directing Robin Hood – I was whistling to work."
Sharp's most recent contribution to the Big Screen was with Ray Winstone directing 'Tracker'. Between movies he has continued to make commercials and short films all over the world. Ian is married to broadcaster and author Sue Cook and lives in Oxfordshire.
Filmography
"Tracker"
UK Film Council/New Zealand Film Commission
Action/Thriller
(Ray Winstone, Temuera Morrison)
"Mrs Caldicot's Cabbage War"
Evolution Films/Andy Birmingham
Comedy
(Pauline Collins, John Alderton, Paul Freeman, Isla Blair, Martin Jarvis)
"Tess of the D'Urbervilles"
LWT/Granada
Drama
(Justine Waddell, Jason Fleming, Oliver Milburn)
"GoldenEye" James Bond
2nd Unit Director
Action/Adventure
(Pierce Brosnan, Dame Judi Dench, Sean Bean, Robbie Coltrane)
"Pleasure"
Channel 4/Alan Bleasdale
Comedy
(Adrian Dunbar, Jennifer Ehle)
"Secret Weapon"
Turner Cable/TVS/ABC Australia
Real Life Drama
(Karen Allen, Griffin Dunne, Jeroen Krabbe)
"Frederick Forsyth Presents"
Drama
(Brian Dennehy, Alan Howard, Lisa Eichhorn)
"Pursuit"
NBC Columbia
Drama
(Veronica Hammel, Ben Cross, Sir Ian Richardson, Sarah Jessica Parker)
"Codename Kyril"
HTV/Showtime Cable
Drama
(Ian Charleson, Denholm Eliot, Joss Ackland, Richard E Grant, Edward Woodward)
"Who Framed Roger Rabbit"
Touchstone/Disney
2nd Unit Director
Action/Animation Comedy
"Yesterday's Dreams"
Central TV
Drama
(Paul Freeman, Judy Loe)
"The Corsican Brothers"
CBS
Drama
(Trevor Eve, Olivia Hussey, Donald Pleasance, Simon Ward)
"Robin of Sherwood"
Goldcrest
Action/Drama
(Michael Praed, Ray Winstone, Nickolas Grace, Judy Trott)
"Who Dares Wins"
Rank/MGM/UA
Action/Drama
(Richard Widmark, Judy Davies, Lewis Collins)
"Minder"
ITV1
Comedy
(George Cole, Denis Waterman)
"The Professionals"
ITV1
Action/Drama
(Lewis Collins, Gordon Jackson, Martin Shaw)